About Indranil Mallick
Talent, virtuosity and youthful dynamism blend in perfect proportion to project Indranil Mallick as a leading tabla player of his generation. Intensive training since the age of 5 under eminent masters including Shri Montu Mallick, Professor Dhabol Bandyopadhyay, Shri Uttam Chakraborty and now with the living Legend Pandit Swapan Chadhuri have shaped Indranil's rich repertoire and contributed to his reputation in the national & international arena.
Indranil has also distinguished himself in cross-over collaborations with western musicians including a recent project with the Miles Davis Electric Band.
Indian radio & television have awarded Indranil "A" grade together with distinguished musicians of India.
Lauded by connoisseurs & critics for his solo performances and accompaniment with renowned musicians, Indranil was the first tabla player to receive the prestigious Pandit Bhimsen Joshi award in 2015.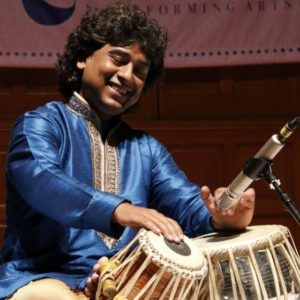 "The class sessions, workshops, and concert were very meaningful events for our students. The opportunity you gave them to experience your music first hand made a deep impression that I know they will carry with them long after graduation."
-Dr. Robert Coburn, Program Directory, Music Theory and Composition Conservatory of Music, University of the Pacific Stockton, California USA
I am privileged to have heard Indranil Mallick perform on tabla in a series of 30 concerts presented in Evanston, Illinois, and it is my honor to enthusiastically recommend him as an exceptional musician and a sensitive and gifted educator. He conveys a passion for music and for teaching. Among the audiences he reached were severely disabled youth and young adults attending the Par School as well as youth who are wards of the state attending Rice Education Center. He was compassionate and attentive to every audience and established immediate rapport with all.
-Annalee Letchinger, Executive Director, Evanston In-School Music Association (EISMA)